By:
Source
)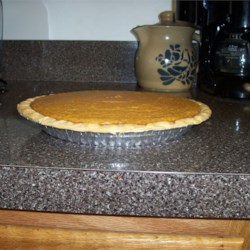 Prep Time:
20 Min
Cook Time:
40 Min
Ready In:
1 Hr
Original Recipe Yield
1 - 9 inch pie
Ingredients
2 cups mashed sweet potatoes
1/4 pound butter, softened
2 eggs, separated
1 cup packed brown sugar
1/4 teaspoon salt
1/2 teaspoon ground ginger
1/2 teaspoon ground cinnamon
1/2 teaspoon ground nutmeg
1/2 cup evaporated milk
1/4 cup white sugar
1 (9 inch) unbaked pie crust
Directions
Preheat oven to 400 degrees F (200 degrees C).

In a mixing bowl, combine the sweet potatoes, butter, egg yolks, brown sugar, salt, ginger, cinnamon, nutmeg and evaporated milk. Mix together well.

Beat egg whites until stiff peaks form; add 1/4 cup sugar and fold into sweet potato mixture.

Pour into pie shell and bake at 400 degrees F (200 degrees C) for 10 minutes. Reduce heat and bake at 350 degrees F (175 degrees C) for 30 minutes or until firm.
Nutritional Information
Amount Per Serving

Calories:

449

| Total Fat:

21.6g

| Cholesterol:

88mg



For More healthy food recipes visit

http://theworldmosthealthyfoodsrecipes.blogspot.com/2011/10/workd-most-healthy-foods-recipes-index.html

For the world most healthy foods visit

http://healthy-foods-index.blogspot.com/2011/03/healthy-foods-list.html

, Posted in Allrecipes.com (