By: Source), Original recipe posted in Allrecipes.com (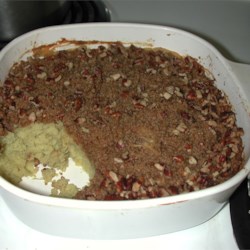 Prep Time:
10 Min
Cook Time:
30 Min
Ready In:
40 Min
Original Recipe Yield
12 servings
Ingredients
4 cups mashed sweet potatoes
1/2 cup white sugar
2 tablespoons vanilla extract
4 eggs, beaten
1/2 pint heavy cream
1/4 pound butter
1 cup packed brown sugar
1/2 cup all-purpose flour
1 1/4 cups chopped pecans
Directions
Butter one 2 quart casserole dish. Preheat oven to 350 degrees F (175 degrees C).

In a mixing bowl, combine the sweet potatoes, sugar, vanilla extract, eggs and cream. Blend well, and spread evenly in casserole dish.

Prepare the topping by combining the butter, brown sugar, flour and pecans. Mix until crumbly, and sprinkle over sweet potato mixture.

Bake for 30 minutes in the preheated oven.
Nutritional Information
Amount Per Serving
Calories:
451
| Total Fat:
25.1g
| Cholesterol:
118mg
For More healthy food recipes visit
http://theworldmosthealthyfoodsrecipes.blogspot.com/2011/10/workd-most-healthy-foods-recipes-index.html
For the world most healthy foods visit
http://healthy-foods-index.blogspot.com/2011/03/healthy-foods-list.html