By: Source)
, Original recipe posted in Allrecipes.com (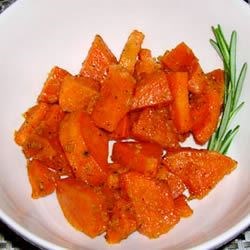 Prep Time:
15 Min
Cook Time:
40 Min
Ready In:
55 Min
Original Recipe Yield
12 servings
Ingredients
3 pounds sweet potatoes, peeled and cubed
1/2 cup honey
3 tablespoons grated fresh ginger
2 tablespoons walnut oil
1 teaspoon ground cardamom
1/2 teaspoon ground black pepper
Directions
Preheat oven to 400 degrees F (200 degrees C).

In a large bowl, toss together the sweet potatoes, honey, ginger, walnut oil, cardamom, and pepper. Transfer to a large cast iron frying pan.

Bake for 20 minutes in the preheated oven. Stir the potatoes to expose the pieces from the bottom of the pan. Bake for another 20 minutes, or until the sweet potatoes are tender and caramelized on the outside.
Nutritional Information
Amount Per Serving
Calories:
162
| Total Fat:
2.3g
| Cholesterol:
0mg
For More healthy food recipes visit
http://theworldmosthealthyfoodsrecipes.blogspot.com/2011/10/workd-most-healthy-foods-recipes-index.html
For the world most healthy foods visit
http://healthy-foods-index.blogspot.com/2011/03/healthy-foods-list.html