By: Source)
, posted in All recipes.com (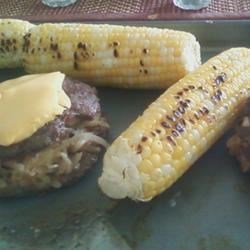 Prep Time:
10 Min
Cook Time:
15 Min
Ready In:
55 Min
Servings: 8
Ingredients
1 gallon cold water
1/2 cup white sugar
1/2 cup salt
8 ears corn on the cob, husks and silk removed
1/2 cup softened butter, or to taste
salt and pepper to taste
Directions
Pour the water into a large pot, and stir the sugar and 1/2 cup salt together until dissolved. Place the ears of corn into the pot, and allow to soak at least 30 minutes but no longer than 8 hours.

Preheat an outdoor grill for high heat, and lightly oil the grate.

Remove the corn from the soak and grill the ears, turning every 2 to 3 minutes to cook the kernels on all sides. Brush the grilled corn with butter, and season to taste with salt and pepper.
Footnotes
Editor's Note

The nutrition data for this recipe includes the full amount of the brine ingredients. The actual amount of the brine consumed will vary.

Cook's Note

Try not to soak corn longer than 8 hours. It becomes soft and very salty. I also love to use fresh ground sea salt, very tasty!