By:
Source
)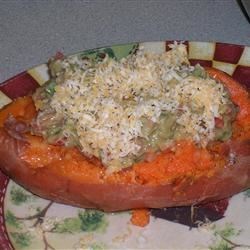 Original Recipe Yield
4 servings
Ingredients
4 (8 ounce) yams
1 medium red bell pepper, seeded and diced
2 avocados - peeled, pitted, and mashed
1/4 cup chopped fresh cilantro
1/4 cup olive oil
2 green onions, sliced
1/2 teaspoon ground cumin
3 tablespoons lime juice
salt and ground black pepper to taste
1 cup shredded Cheddar cheese
Directions
Preheat the oven to 350 degrees F (175 degrees C). Place yams on a baking sheet.

Bake yams for 40 minutes, or until tender, turning occasionally. Set aside.

In a medium bowl, mix together the red pepper, avocado, cilantro, olive oil, green onions, cumin and lime juice.

Cut yams in half lengthwise, and fluff the centers with a fork. Top with the avocado stuffing. Season with salt and pepper, and top with shredded Cheddar cheese.
Nutritional Information
Amount Per Serving

Calories:

703

| Total Fat:

40.2g

| Cholesterol:

36mg


For More healthy food recipes visit

http://theworldmosthealthyfoodsrecipes.blogspot.com/2011/10/workd-most-healthy-foods-recipes-index.html

For the world most healthy foods visit

http://healthy-foods-index.blogspot.com/2011/03/healthy-foods-list.html

, posted in All Recipes.com (